Your Aventure Onboard the Movin'on Will Be Steady As She Goes.

The Movin'on is Captained by one the most experienced sailors on these waters you will ever find.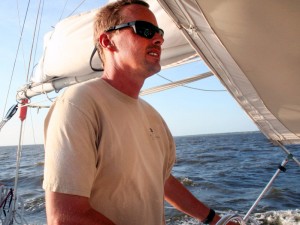 Captain Robert Putnam, owner of the Movin'on, has also been the Captain of the Elizabeth II for 10 years.  Growing up on these waters for 40 years, he comes from a long family line of waterman and commercial fisherman. He's sailed most of the sounds and connecting rivers of eastern North Carolina as well as Virgina and Maryland. Capt. Rob has also sailed on other historical vessels including the Susan Constant of Jamestown, and The Maryland Dove of St. Mary's City, MD.
With generations of family from the Outer Banks including lighthouse keepers and onlookers of the Wright brothers first flight, Capt Rob is an all around waterman, surfer, sailor, father and husband. You can rest assured your cruise will be a breeze with Capt. Rob at the helm.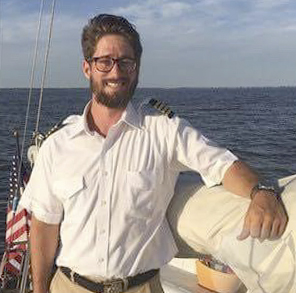 Captain Tom Coyne, has an appreciation for North Carolina history and a love for the ocean. He says his dad wouldn't let him grow up without learning to live on the water. Over the years, Captain Coyne repeatedly cruised the shoreline of five states: Virginia, North Carolina, South Carolina, Georgia, and Florida. Since he grew up enjoying ocean adventures outside of Florida, the area holds special memories for him.
He acknowledges state newcomers are often amazed by legends of pirates like Blackbeard who patrolled coastlines from the Caribbean to North Carolina and took over ships loaded with goods and sold the merchandise for easy profit. There are also stories about a host of ships that sank off the coastline.
He admits his life as a full-time student, charter boat captain and now museum volunteer is quite a balancing act, but it's an incredible way to supplement the state history lessons he learns in classrooms.